Imagine the sun swept grapevine valleys of the Mediterranean, the blue skies and waters surrounding our mountains covered with carob shrubs and olive trees. A palette blending all the flamboyant colours together with the aroma of traditions carried forward for thousands of years. This is what we pack into our Heart of the Mediterranean products, a bouquet of fragrances and flavours from the best quality produce on the planet.
All our products are strictly Mediterranean, and derived from countries like Malta, Italy, Cyprus, and Greece.
We distribute high quality products selected from Mediterranean countries such as Malta, Cyprus, Italy and Greece.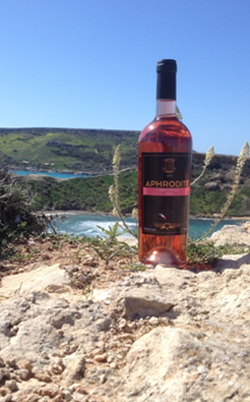 APHRODITE
A superb crisp rose wine made on the island of Sicily from nero d'avola grapes. Refreshing and with a strong scent of the clay mountains where its grapes are grown, harvested and fermented into this refined, silky wine. Delicate, with clear hints of strawberry and elegant notes of ripe raspberry. Aphrodite is velvety, fresh and generously fruity.
Serving suggestions:
Goes well with any food dish but especially with white meat, cheese, fruit and caviar.
Ideal serving temperature: 9°C
Price €45 each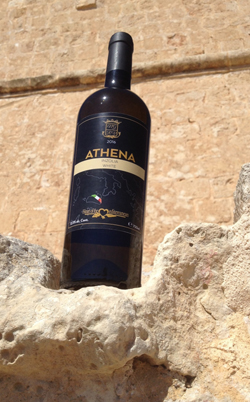 ATHENA
Athena wine, a flamboyant, refreshingly pleasant white wine made from Inzolia grapes, grown, harvested and fermented on the clay mountains where it is produced in Sicily. The distinctive golden mature fruit essences give out a pleasant scent, perfectly suited for the goddess of wisdom it was named after.
Serving suggestions:
A good companion for most dishes, but ideally enjoyed with fish, fruit and cheese, or as an aperitif or relaxation drink.
Ideal serving temperature: 9° C
Price €45 each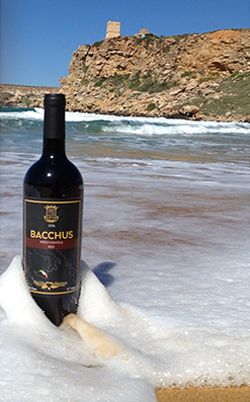 BACCHUS
With its bold, velvety colour, Bacchus will provoke a satisfying reaction from your guests as it is decanted and poured in their wine glasses. The intense aroma of marasca and cranberry, combined with a pleasant hint of black pepper and delicate floral essences, provide a magnificent aromatic combination. Bacchus is the pinnacle of elegance: it will provide a strong yet pleasantly cool palate, extending into an enjoyable, long lasting and pleasing aroma.
Serving suggestions:
Bacchus accompanies well red meats, tasty cheeses and pasta.
Ideal serving temperature: 18° - 20° C
Price €45 each


Magnus
Magnus extra virgin olive oil, from Puglia, Italy. Slightly tangy it adds colour to fresh salads, fish and seafood dishes.
Puglia is the sun-drenched heel of the boot that spans two seas, the Adriatic and the Ionian.
Puglia is an agricultural region with abundant healthy soil, over 50 million olive trees and a tradition of fishing that is still very much in tact, Puglia produces some of the freshest food on the planet.
Price €25 each

Augustus
Augustus extra virgin olive oil, like the Magnus is also from Puglia. Made exclusively from Ogliarola olives, this is a 'sweeter' version without that tangy taste. It might be more appreciated by some people who do not like to change the taste of the ingredients in their dish.
The region of Puglia, the "heel" of Italy's boot, is a land of red earth with twisted olive trees whose lineage stretches back centuries, in some cases even millennia, in this traditional heartland of olive oil. Providing 40 percent of the nation's product, with over 60 million trees in the region (one for every person in Italy), olive oil is a tradition that inspires more Pugliese pride than any other, and with reason.
Price €25 each

About us
The Mediterranean diet is known for its beneficial healthy attributes. Heart of the Mediterranean aims at being the number one producer of Mediterranean culinary products, ensuring the best quality in freshness, taste and nutritional values. This means we produce our products using highly qualified and modern agricultural setups, yet following traditional processes that date back to the Greek and Roman times. We employ this combination with continuous rigorous checks for quality control, allowing only the best products to make it to the packing lines. We believe our closely guarded traditional trade secrets and love for quality products are our key to success.
These rigorous quality efforts during production and packaging guarantee the authenticity and freshness that all professional gastronomists desire in the products they consume at home.

Contact us
Room 1, Level -1,
8, Triq l-Avukat Carmelo Caruana
Tas-Silg, Marsaxlokk, MXK1232
Malta.

Email : info@basemalta.com
Facebook : Heart of the Mediterranean

About our products
We commit to use only 100% natural ingredients of the finest quality, minimum possible preservatives, and no chemicals or other unnatural ingredients. All products are made from organic produce and pre-selected for their quality. We employ stringent quality control methods and our products are packed in highest standard packaging to ensure the product reaches the end user fresh as expected.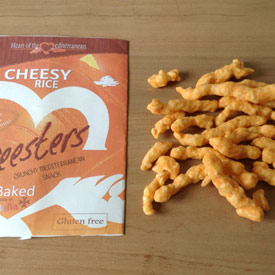 Freesters
Free from any unhealthy ingredients and cooking processes, Heart of the Mediterranean called them FREESTERS...
Freesters are a unique, crunchy, Mediterranean snack mainly made from high quality Rice and Mediterranean Cheese. Freesters have a very appetitive flavor and are baked(not fried), making them an especially healthy snack.
Rich in many important nutrients and proteins for healthy growth, Freesters provide the necessary nutrition for strong Children full of energy.
Freesters are also gluten free, therefore suitable for persons with various medical conditions related to gluten, and are also suitable for vegetarians as they contains no meat or poultry products.
Freesters may come in a variety of sizes, from 50 grams to 150 grams according to customer requirements.
BAKED WITH LOVE IN MALTA
Copyright © 2013 Heart of the Meditterean - All Rights Reserved